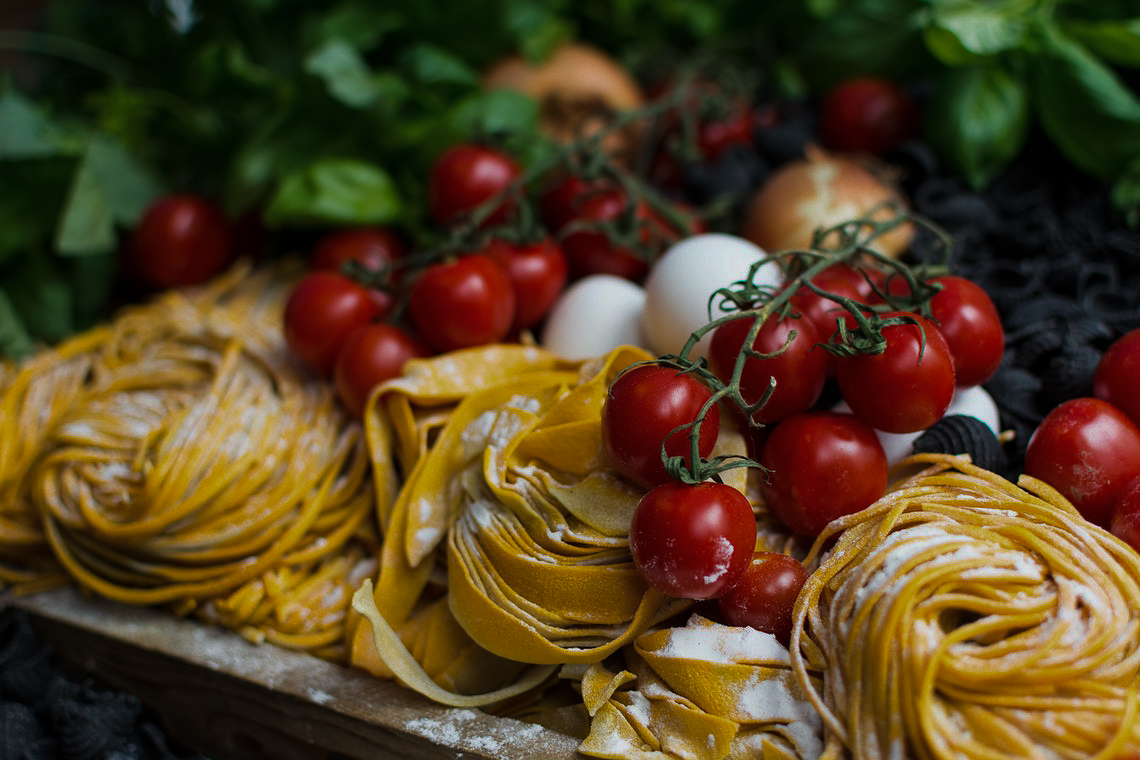 PIATTI DI ANTIPASTI (suggested for 2)

24

Selection of Italian cheese and cold cuts served with fresh seasonal fruits, nuts and crostini.

FOCACCIA WITH GARLIC

7.50

With fresh tomato and basil tartar, drizzled with olive oil and balsamico

Homemade bread, smoked salmon, Philadelphia served with cucumber and dill.

OSTRICHE FRESCHE - Fresh oysters – Gillardeau No 2

5.50 / piece

Served with fresh lemon, Tabasco sauce, chopped onion, champagne vinegar on a bed of crushed ice.

Prosciutto with fresh seasonal fruit

Beef carpaccio with baby rocolla, parmesan flex and truffle oil.

Seared salmon tataki with pistachio and sesame crust. Served with soya sauce and mango jus on the side.

COCKTAIL DI GAMBERI DOLCE – VITA

9.50

Shrimps and Prawn cocktail with avocado and avalanged with our own home made cocktail sauce.

Fresh Marinated Tuna tartare. Diced tuna fish marinated in virgin olive oil, lime juice, spring onion, gherkins and accompanied by sesame oil.

Crispy baby calamari with Sweet chili sauce.

COZZE IN SALSA CREMOSA ALL' AGLIO

15.00

Fresh Mussels in Creamy Garlic sauce - 500gr

King prawns in chili garlic sauce.

FUNGHI IN SALSA CREMOSA

8.50

Mushrooms in creamy garlic white wine sauce scented with tarragon.

Aubergine tower baked with parmesan, tomato sauce and basil.

Ravioli filled with fresh scallops and North sea prawn. Served with saffron sauce.

Potato Gnocchi with asparagus, topped up with tomato, gorgonzola cheese and glazed.
Ruccola salad, honey balsamic, nuts, sundried tomato, pomegranate, parmesan.

Mixed greens, tomato, cucumber, bell peppers, onion, black olives, feta cheese, tossed in oregano dressing.

Fresh buffalo buratta, cherry tomatos, balsamic, pesto.

Romaine lettuce, Ice berg lettuce, crispy bacon, croutons, chicken Parmesan flex, tossed in our own home made dressing.

INSALATA TIEPIDA DI FORMAGGIO

16.50

Goat cheese on a crispy salad with celery, apple, raisins, roasted hazelnuts in honey balsamic dressing.

Seafood salad. Calamari, octopus, king prawns, celery, olives, parsley in virgin olive oil dressing.
MINESTRONE TRADIZIONALE

7.50

Minestrone Soup

Homemade seasonal soup. Ask your waiter about our soup of the day.
SPAGHETTI AL AGLIO E OLIO

12.50

Spaghetti with garlic oil

SPAGHETTI ALLA CARBONARA

15.00

Spaghetti tossed in crispy bacon creamy sauce.

Rigatoni with creamy cheese sauce with a touch of garlic.

Rigatoni tossed in spicy tomato sauce

SPAGHETTI CON POLPETTE

15.50

Spaghetti with Meat Balls. Braised in a Mediterranean Aroma Tomato Sauce.

Rigatoni, strips of beef fillet cooked in tomato sauce with onion and mushrooms.

TAGLIATELLE BOLOGNESE

15.00

Tagliatelle with mince beef ragout

TAGLIATELLE AL AMATRICIANA

17.00

Tagliatelle with chicken piccata tossed in pancetta tomato sauce.

TAGLIATELLE AI FUNGHI

15.50

Tagliatelle in creamy sauce with wild mushrooms

Linguini with King prawns in creamy lemon dill sauce.

Ink Linguini with seafood (King prawns, scallops, calamari, mussels).

Ravioli with spinach and buffalo ricotta cheese in creamy tomato sauce.

Ravioli with salmon, saffron cream sauce

TORTELLONI AI FUNGHI

15.50

Tortelloni pasta filled with wild mushrooms served with creamy garlic sauce with a touch of truffle oil.

Lobster and crab ravioli served with white wine buttery sauce capers and herbs.

Lasagna with beef mince ragout in clay pot

*Gluten free Pasta – On Request

16.00
Mozzarella, parmesan, tomato, basil.

Tomato, Pepperoni, Mozzarella

Tomato, onion, mushroom, peppers, olives, zucchini, mozzarella, pesto.

PIZZA AI QUATTRO FORMAGGI

17.00

Pizza with four cheeses (Mozzarella, parmezan, gorgonzola, con pepperoncino)

Cyprus Pizza. Halloumi cheese, lounza, olives, Bell peppers, fresh tomato and oregano.

Beef mince meat, mushrooms, peppers, chili, mozzarella.

Tomato, pineapple, ham, mozzarella

Mushroom, ham, olives, mozzarella

Onion, mushrooms, chicken, sweet corn, chili, fresh mozzarella, rucolla.

Prosciutto, mushrooms, cherry tomatoes, gorgonzola, rucolla.

PIZZA AI FRUTTI DI MARE

19.00

Seafood pizza. Shrimps, green mussels, calamari, salmon.
Crispy baby calamari, sweet chili sauce.

Fresh scallops shallow pan fried, served with saffron sauce.

COZZE IN SALSA CREMOSA ALL' AGLIO

29.50

Fresh Mussels in Creamy Garlic sauce - 1kg

POLPO MARINATO ITALIANO

20.00

Grilled marinated octopus with Italian herbs.

Grilled blue fin tuna steak, chimichurri on the side.

Grilled fillet of salmon with sauce Béarnaise.

King prawns in garlic creamy sauce.

Grilled sea bass filleted served with warm caponata salad.

DOVER SOGLIOLA DI PESCE

30.00

Dover sole, grilled or Meunière (lemon sauce).
PETTO DI POLLO MARINATO

15.00

Marinated grilled breast of chicken

PETTO DI POLLO IN SALSA CREMOSA

17.00

Chicken breast shallow fried and finished in creamy mushroom sauce.

Crumbed chicken breast and topped with tomato sauce, fresh mozzarella and baked.

POLLO ALLA CACCIATORE

17.00

Chicken fillet in a light chili based tomato sauce with bell peppers and mushrooms.

PETTO DI POLLO AL PEPE

16.50

Chicken breast in a light creamy peppercorn sauce.

Veal shank, roasted vegetables with herbs, Served in hot clay pot.

MEDAGLIONI DI MAIALE AL MARSALA

19.00

Pork Filet medallions flamed in marsala wine and finished with mushrooms and cream.

Pork piccata in a whole grain, honey mustard sauce.

Spare ribs with barbeque sauce

CARRE DI AGNELLO AL FORNO

31.00

Roasted rack of Lamb, fresh herb crust, mint jus.

Lamb Shank. Slow roasted and presented on bed of Puree Potato and Rosemary jus.

Strips of Angus fillet of beef in creamy dijon mustard mushroom sauce.
Premium Black Angus Fillet Steak
FILLETO BURRO ALL'AGLIO (250gr / 9oz)

39.00

Creamy garlic butter

FILLETO SALSA AL GORGONZOLA (250gr / 9oz)

39.00

Gorgonzola sauce

FILLETO SALSA AI GRANI DI PEPE (250gr / 9oz)

39.00

Peppercorn sauce

FILLETO SALSA DOLCE – VITA (250gr / 9oz)

40.00

Mushrooms, artichokes, mustard sauce.
FILLET STEAK (250gr / 9oz)

36.00

RIB EYE STEAK (300gr / 11oz)

29.50

T-BONE STEAK (550gr / 19oz)

32.00
Seafood risotto, served with tomato saffron sauce.

Wild mushrooms risotto with truffle aroma

RISOTTO ALLE VERDURE (vegan friendly)

16.00

Vegetable risotto with mushrooms, zucchini, peas and broccoli
Mozzarella, parmesan, tomato

Tomato, Pepperoni, Mozzarella

Plain or Bolognese or tomato sauce or carbonara
Our signature "Porn Star Martini" based on premium vodka with mastiha and passion fruit aftertaste is not only balanced, but also delicious and satisfying.

This "margarita" with spicy notes will seduce all the human senses.

The perfect aperitif. A refreshing combination of London Dry Gin, Aperol, Olive bitters and premium tonic water.

For those who dare. Spiced Rum based cocktail with smokey whiskey and ginger beer.

The ultimate Italian classic cocktail with a rich and intense twist. Perfect for truffle lovers.
Double espresso, Sobieski vodka, coffee liqueur

Original, Strawberry, Mango, Passion Fruit

Sobieski vodka, Triple Sec, lime, cranberry juice

Grey Goose, Hendrick's, Dry Vermouth

Bacardi, coconut liqueur, pineapple juice, cream of coconut

Prosecco, mint leaves, elderflower Cordial, soda

Prosseco with a choice of Strawberry or Mango or Passion Fruit

Brandy, lemon juice, angostura and soda

Vodka, peach schnapps, blackcurrant and orange juice

Vodka, tomato juice and spices
BASIL & CUCUMBER LEMONADE
MOET & CHANDON BRUT IMPERIAL

Épernay

Allemant, Côte de Blanc 20CL
LOUIS ROEDERER CRISTAL BRUT

Reims
MOET & CHANDON BRUT IMPERIAL ROSÉ

Épernay
SARTORI DI VERONA, PROSECCO DOC

Brut Treviso

SARTORI VERONA, PROSECCO DOC

Brut Treviso 20CL
Xynisteri, PGI Pafos, Kolios Winery

PGI Lemesos, Constantinou Winery

Xynisteri, PDO Laona Akamas, Kathikas Winery

Xynisteri PGI Lemesos, Kyperounda winery

Semillon - Sauvignon Blanc, P.G.I. Lemesos

Chardonnay, Organic, PGI Pafos
PGI Lemesos, Constantinou Winery

Xynisteri, PGI Pafos, Kolios Winery
Xynisteri-Semillon, PGI Pafos, Fikardos Winery
Grenache - Shiraz P.G.I. Lemesos, Constantinou Winery

Rose dry Shiraz Sterna Winery
PGI Pafos, Fikardos Winery
Red Blend, PGI Pafos, Kathikas Winery Vasilikon

Merlot, Sterna Winery Kathikas (merlot intense white and black pepper aromas red fruits and spices on the background, fully body with smooth tannins)

Merlot, Sterna Winery Kathikas (merlot intense white and black pepper aromas red fruits and spices on the background, fully body with smooth tannins)

P.G.I. Pafos, Kalamos Winery (pleasant medium full-bodied red with oak, baking spices, raspberry and pepper with sweet oak on the finish)

Shiraz P.G.I. Lemesos, Kyperounda Winery (full-bodied, intense red fruits and herbs, sweet spices, vanilla, round tannins and well-balanced acidity)

Shiraz-Merlot P.G.I. Pafos, Kolios Winery (full-bodied, lovely core of prunes, black cherry, forest floor and spice, finely grained tannins)

Organic P.G.I. Pafos, Tsangarides Winery (complexity of red fruits, plums, blackberry, sweet spices and oak, rich in tannins)

P.G.I. Lemesos, Zambartas Winery (full-bodied, scent of violets and black cherries, French oak, rich fruit and round tannins)

Cabernet Sauvignon, P.G.I. Pafos, Kathikas Winery (complex aromas, green pepper, capers and red fruit against oak background, balanced tannin)

LEONARDO CABERNET SAUVIGNON

P.G.I. Pafos, Fikardos Winery (full body, aromas of prune, blackberry, cherry jam, mint, bell - pepper and dark chocolate, fine grained tannins, limited)
Pafos, Kolios Winery (medium body, well-layered black cherry, licorice and grilled sage flavours, fine tannins)
Gerovassiliou Winery (it has brilliant straw colour with greenish shades and an aroma of matured fruit such as pear, mango and citrus)
Garganega 40%, Trebbiano 40%, Cortese 20% (intense, fruity aroma, pleasurably fragrant)

Veneto, Sartori Family di Verona (delicate bouquet, fruit forward, fresh and well balanced with good acidity)

IGT (fruity aroma, with notes of bananas and tropical fruits typical of the Grechetto and Pocanico grape varieties)

Rocca di Frassinello, Maremma, Tuscany, Domini Castellare (nose of white flowers, citrus notes, balanced taste by well-supported acidity and mineral component)

IGT Veneto dei carni (Bouquet: intense, fruity and flowery with typical notes of Chardonnay)

Campania, Cantine Nativ (aromas of fresh flowers, yellow peach and candied orange, fresh and mineral)

ZONIN SOAVE CLASSICO D.O.C.

Veneto (intense aromas of white flowers and green apples, balanced and with delicate aftertaste)

FONTANAFREDDA GAVI DI GAVI DOCG

Piedmont (medium-bodied, aromas of yellow pear, chamomile, field grass and vanilla, refreshing)

Agricola Gianpiero, Tre Fie Arneis, Piedmont (medium bodied, fresh and elegant, floral notes hawthorn and acacia, white peach and citrus fruit, integrated acidity and light mineral)

Castello Della Sala, Marchesi Antinori, Orvieto Classico DOC Superiore, Umbria (pleasurable notes of tropical fruit and mineral note, structured and fresh with savoury character)
Blush Pinot Grigio, I.G.T. Tre Venezie, Sartori di Verona (crisp, light and elegant with alluring flavours of white peach and delicate floral notes)

D.O.C. Veneto, Sartori di Verona (nose all kinds of lilies, roses, lilacs, violets and lavender, wonderfully light)
Cantine Tinazzi (light-medium, cherry highlights, fruity fresh bouquet, dry, harmonious and vivacious)

Family Di Verona, Classico DOC Veneto, Sartori (light-medium, aromas and flavours of cherries, candied strawberries, black pepper, vanilla, juicy acidity)

Classico D.o.c.g., Castellina, Tuscany (bright, fruity, strawberry-infused aromas, raspberry and spice, medium-bodied, silky tannins)

TORLASCO BARBERA D' ASTI D.O.C.G.

Piedmont (aromas of roasted coconut transform into vanilla and nutmeg, elegant influence oak)

Cabernet Sauvignon-Merlot, I.G.T. Veneto, Cantine Tinazzi (full-bodied, pronounce aromas of red berry, light spice, velvety and persistent)

Negroamaro, Salento, Puglia, Cantine Tinazzi (medium - full body, red berries, spice and licorice notes, velvety tannins)

Primitivo di Manduria, Puglia, Cantine Tinazzi (full body marked hints of cherries and prunes with spicy notes, warm and enveloping)

SIEBENEICH, MERLOT RISERVA

Alto Adige, Cantina Terlano (medium-body, dried plums, cranberries, herbal aromas, stable tannin structure, profound)

Primitivo Lxxiv Puglia (full-bodied, rich perfumes of plums and ripe red fruits, a wine with muscle, yet a velvety texture, dry and spicy)

GIUSTI, VALPOLICELLA RIPASSO

Classico Superiore, Veneto (full – bodied shy nose reveals baking spice and ripe dark-skinned fruit, prune and mocha are alongside round tannins)

Marchesi Antinori, Rosso I.G.T. Tuscany (Super Tuscan) (full bodied, silky and delicious, red cherry, plum, spice and walnut aromas, firm tannins and clean finish)

Vinum Italicum, V.D.T., Cantine Tinazzi (full -bodied mature red fruits, spicy notes, chocolate and liquorice, strength and balance)

AMARONE DELLA VALPOLICELLA

DOCG, Veneto, Cantine Tinazzi (full bodied, ample aromas of sour cherries prunes, balanced with soft tannins)

Cecchi, D.O.C.G., Tuscany (full-bodied fragrant aromas of ripe berries, wildflowers, dried herbs, tobacco, integrated tannins)

PRUNOTTO BARBARESCO, D.O.C.G.

Piedmont (full bodied deep and complex with hints of liquorice. On the palate, full and velvety with a long finish)

PRUNOTTO BAROLO, D.O.C.G.

Piedmont (full-bodied, wide and complex with hints of violet and forest fruit aromas. On the palate, full and velvety and well balanced)
TIGNANELLO, MARCHESI ANTINORI

I.G.T. Tuscany, (Super Tuscan) (full-bodied, dense, exotic and flamboyant, red berry fruit, cherries in liqueur, blood orange, wildflowers, sweet spice, racy)

SOLAIA, MARCHESI ANTINORI

Tuscany, (Super Tuscan) (is an intense, deep ruby red color. Its nose is impressive with intense notes of dark, ripe fruit with scents of blackberries, black currants with balsamic hints of fresh mint and myrtle. Its bouquet is completed by refined spicy aromas of white pepper, toasted cinnamon and cocoa powder.)

SASSICAIA, MARCHESI ANTINORI

SASSICAIA, MARCHESI ANTINORI, Tuscany, (Super Tuscan) (DOC has an intense, ruby red color. The aroma is elegant and complex, with notes of red fruits. The taste is powerful, concentrated and has a tremendous amount of depth with almost sweetish and balanced tannins. Once in the mouth, it becomes completely full and tight, yet at the same time still elegant.)
Domaine Ann & Arnaud Goisot (dry and fruity, lemon and grapefruit, rich with intense acidity & complexity with mineral notes)

Sancerre A.O.C. (intense aromatics of white flowers, flint and lime, full and rich, smoky minerality)
Dry Côte de Provençe A.O.C. (full of freshness, delicious red fruit, lemony, mineral and saline notes, long and intense finish)
Classique Vin de Pays, Vin de Sud Languedoc (medium-bodied, vivid notes of cranberry, raspberry and dark cherry, with cola and toasted oak)

CHÂTEAU DE LA PIERRE LEVÉE

Revelation de Hubert de Boüard, Castillon, Côte de Bordeaux A.C. (fresh and ripe, plum, blackberry, cocoa, vanilla wood spice, chalky textured tannins, fresh and lively)

Clos De L'oratoire Des Papes, Ogier (full-bodied, spicy, floral, acacia, red berries, fresh, with fine tannins lengthy finish)

Cru Bourgeois, Saint Estèphe A.O.C. (expressive, rich and complex nose, black berries, spice and mint, well balance, full and elegant)
Catalunya D.O. (off-dry lemon and white floral notes galore! Mouth-watering acidity)
Catalunya DO (flavours of blackberry, cherry, raspberry and plum accented by hints of roasted coffee, chocolate and vanilla spice, medium bodied).
MISTY COVE SAUVIGNON BLANC

Marlborough (light to medium, excellent fruit intensity brilliantly supported by juicy acidity, finishing impressively long & delicious)
CASAS DEL BOSQUE SAUVIGNON BLANC

Casablanca Valley (medium bodied, wonderfully aromatic, nose of kiwi, lime zest, pungent and versatile)
CASAS DEL BOSQUE SHIRAZ, GRAN RESERVA

Casablanca Valley (full-bodied, lifted notes of lavender, violet, blueberries and gunpowder, fresh acidity and crisp finish)
Bodega Septima (fresh due to its natural acidity. Fruity with sweet and rounded tannins, balanced and intense with a clear varietal character)
CHENIN BLANC, L' Avenir Horizon

Stellenbosch 25.00 (balancing crisp, fruity notes, with the classy complexity of oak spice and minerality)
Moscato D' Asti Love DOCG 25.00 (sparkling naturally sweet, intense, aromatic, with hints of peach and lychees, high refreshing acidity)
L' Avenir Horizon, Pinotage, Stellenbosch 28.00 (medium bodied, fruit-filled, succulent, notes of ripe red cherries, raspberries, a touch of sweet spiciness with a hint of dark chocolate)
KOLIOS WINERY Persefoni White Dry

KOLIOS WINERY Ayios Photios Maratheftiko Red Dry

TSANGARIDES WINERY Shiraz Rose Dry

FIKARDOS WINERY Katerina White Medium Sweet

FIKARDOS WINERY Valentina Rose Medium Sweet

STOWELLS Sauvignon Blanc - White